You know those seven habits that we should all follow if we want to be effective?
Of course you do! Well, my favorite is #7 – Sharpen the Saw. I love learning and in the business of freelance writing we should always set aside some time to sharpen the saw.
How? One way to do this is by reading blogs that have advice that pertains to your freelance writing business. You're in luck because there are lots of blogs out there. But with so many blogs competing for what little time you have, how do you know which sites to pay attention to? That's what this article is about. I'm taking a look at 10 blogs that every freelance writer should be reading.
These 10 blogs include topics such as business advice, social media advice, writing tips, where to find jobs, balancing your work life with your personal life, and much more. Some of them even include job boards or links to listings. Some include lifestyle advice. After all, freelance writers need to stay healthy in mind and body just like anyone else.
I've not included those that just focus on blogging. This list is for those that own and operate their own freelance writing business where they write for hire. The type of writing isn't the focus – the fact of writing for hire is the focus. So, on to the list.
Buffer Social is the blog of Buffer, the social media app that helps you save time in your social media efforts while driving traffic to your website and increasing fan engagement. The blog covers all aspects of using social media for marketing and growing your business.
Some of the latest posts that I found interesting were:
The blog posts several times per week and includes articles on all social media platforms. Their articles are quite extensive. The blog is clean and free of outside distractions. They don't even spend much time pushing their own products or services.
Social media is a very important part of our marketing efforts. Social Media Examiner is one of the most popular sites on the net and offers lots of excellent advice for using social media as a marketing tool.
Some of the latest articles that I found interesting include:
If you sign up to their newsletter you get a free 50 page report titled How Marketers Are Using Social Media to Grow Their Business. The blog produces several articles per day and they're very informative and comprehensive.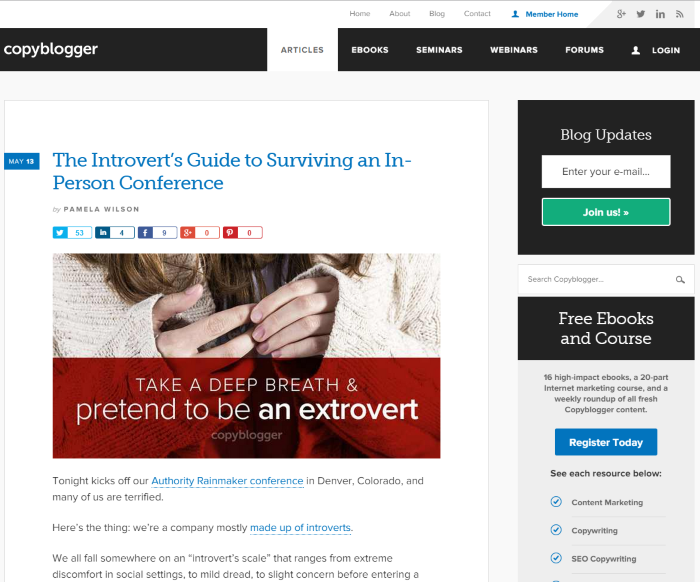 This popular website offers plenty of writing advice for copywriters. Topics include writing, SEO, social media, email, keyword research, creating landing pages, and more. It has a lot of articles about running your business.
Some of the latest articles that I enjoyed includes:
They offer 16 free ebooks, seminars, webinars, and forums to help you grow as a writer. The blog publishes several articles per day.
Grammar Girl, from Mignon Fogarty, is an award winning website for writers that includes tips on grammar, punctuation, and usage. The long list of awards is amazing, and just goes to show how important this website actually is.
Some of the recent articles that I enjoyed were:
Mignon posts several tips per week. There always fairly short, yet comprehensive, applicable, and needed in today's society.
The Write Life is a website that focuses on every aspect of the writer's life and business – including freelancing, publishing, blogging, marketing, the craft of writing, and more.
Some of the latest articles that I found interesting included:
They publishing articles several times per week. If you sign up for their newsletter you get a free ebook titled How to Land Your First Client.
Write to Done focuses on honing your writing skills, no matter what kind of writing you're into – whether it be fiction, poetry, copywriting, etc. The blog includes all types of topics that include writing exercises, tips, news about products, and more.
Some of the latest articles that I enjoyed include:
The articles are posted often and they are usually very extensive. If you sign up to the newsletter you get a free guide called The (nearly) Ultimate Guide to Better Writing.
This is the website of Carol Tice. I spent a lot of time on this website while I was developing my own freelance writing business. Carol gives excellent advice on starting and maintaining your freelance writing business, including what to do and what not to do. Topics include all aspects of freelance writing including writing, marketing, business management, and more. It made Writer's Diget's 2015 list of the 101 Best Websites for Writers. Carol also hires writers to write for her website.
Some of the latest articles that I found interesting are:
Articles are published weekly. If you sign up for her newsletter you get a free 1 hour podcast that includes advice from 17 professional freelance writers called The Freelance Fear Buster.
This site from Linda Formichelli was listed in the top 10 blogs writer's list four years in a row and was listed in Writer's Digest's 2014 101 Best Website's for Writers. The primary focus is freelance writing and building your career as a freelance writer.
My favorite of the most recent articles include:
Linda gives away two ebooks titled:
Editors Unleashed: Magazine editors growl about their writer peeves
50 Ways to Build Your Freelance Writing Business Today — No Matter How Much Time You Have
The actual title of this site is High Income Business Writing with Ed Gandia, which also happens to be the name of the podcast that Ed provides on this site. When I was developing my freelance business, this podcast is where the majority of my information came from. I listened to most of the episodes twice. The site includes the podcast and transcripts of each episode.
My favorite of the recent posts include:
There's a new podcast every two weeks. They're about an hour long.
This is blog focuses on building and running your freelance writing business. It provides many tips for all aspects of the freelance writing business including writing, marketing, and freelancing.
Some of my favorite recent articles include:
If you sign up to the newsletter you get a free eBook titled On How To Build a Solid Portfolio & Reputation Online.
Final Thoughts
It was hard getting it down to 10. There are many others that I could have included, but these 10 will help in honing your writing skills, developing your freelance business, and balancing your work life and home life. Their advice can help you be a successful freelance writer and push your writing business into the stratosphere.
Now it's your turn. Did I leave out your favorite blog that freelance writers should be reading? Do you have something to add to the list? Tell us about it in the comments below.
Featured image via The Typical Female Magazine / Unsplash
The following two tabs change content below.
Randy A Brown is a freelance tech writer specializing in WordPress and web apps. For information about hiring Randy to write technical articles for you please visit www.randyabrown.com.
Latest posts by Randy A Brown (see all)