Superheroes, comic books, space, computers, video games, elves, and all things geek are everywhere! Makes sense then that you can bring all that awesome geekiness into your very own WordPress website and show the world that you're a nerd and you're proud of it. So why not geekify your WordPress website with a nice nerdy theme? You like science? You like anime (you know you do, don't lie to me!)? WordPress has you covered.
In this article, I've installed a bunch of cool and nerdy themes and I'm here to show you some of my favorites. Geeky and nerdy themes are everywhere, but not all are really that nerdy once you get past the banner. There are many themes that have geeky names and banners, but once you scroll down past the fold there's nothing there to maintain the geek. They can be used for anything. That's okay if that's what you want, but we're looking for themes that keep the geek realness from top to bottom. Here's a list of my favorites.
This theme from Elegant Themes was made with gamers in mind. It is adaptable to other genres, but its design maintains the geek all the way through to the footer. It includes easy video embedding, an author review system, built-in control over banner ads, widgets for recent/popular/random articles, thumbnails, four colors, and a nice e-panel to make it easy to setup. You can make a blog, a magazine, or a website with a static front page. It includes page templates and shortcodes. It's a very elegant theme (pun unintentional… okay, who am I kidding!?) and it would look nice on any kind of nerd site you can imagine.
egamer is part of the Personal plan that includes access to all themes, perpetual updates, premium tech support, and unlimited usage for $69 per year.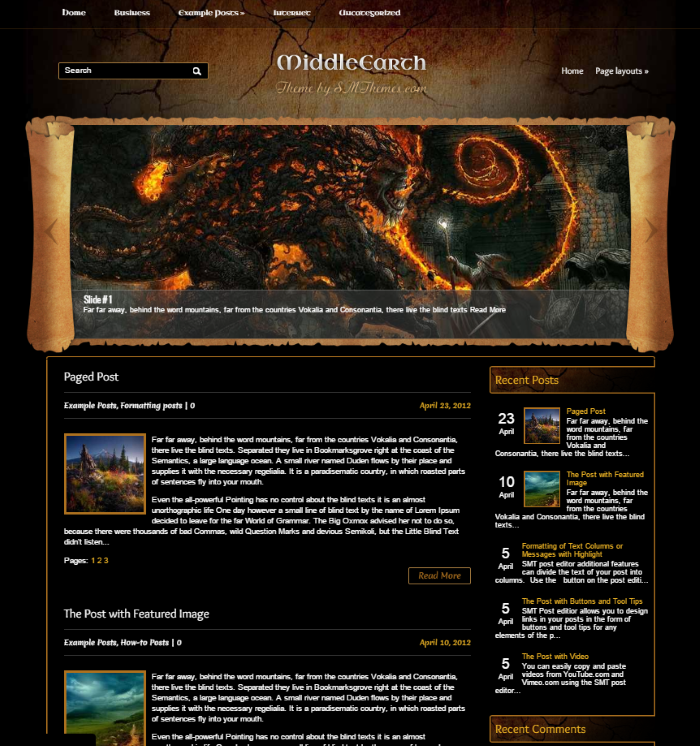 This theme from SMThemes has a dark, earth-tone, scroll-like look that's sure to please your inner hobbit. It features a slider that comes with several awesome paintings of characters and settings from The Lord of the Rings and the Hobbit. Some paintings are of actual actors in their roles while others, like the Balrog, are reimagined. It has an average rating of 4.8 of 5 with over 2300 users. It's responsive and is compatible with WooCommerce, has custom sidebars, Google Maps shortcode, supports Ecwid, has a social share bar, and much more. There are more options than what is found in most themes. It includes 6 different layouts, a contact form template, and much more.
It's free with ads, or you can get the ad-free edition for $29 for a single site, or $39 for multiple sites.
If you're a fan of the CW's hit Arrow and want to pay homage on your website then you're in luck! You can download the Arrow theme for free. The theme places a picture of the Arrow behind your content and uses the same dark green color-scheme throughout your site. As your visitors scroll through your content, the Arrow stays in place. It adds Theme Options to the menu that includes lots of features including header, footer, navigation, posts, excerpt, pages, comments, side bar, ad-management, and more.
This one is just too pretty! I can get lost in that beautiful fantasy backdrop. As far as features go, this is one of the better themes. It is highly customizable and includes video breadcrumbs, parallax background, over 100 shortcodes, 10 different blog variations, 5 post templates, revolution slider (with transition effects, image preloader, and much more), drag and drop back end, responsive, and much more. It has a color picker so you can choose your own colors if you want. It has several different layout options including something a little darker:
It's responsive and looks great on all devices. It costs $39 and includes basic support and a detailed help file.
The final frontier…. Space, from Zebra Themes, is a very techy theme. It has custom widgets, jQuery slider, sidebar, and is responsive. It has advanced theme options and has support for banners. It adds a tab to your dashboard called Zebra Themes. This adds advanced settings that include general, social, blog, slideshow, navigation, and footer.
All of the features are available in the free version. The paid version is currently $19.95 and includes access to the support forum.
Remember Netscape Navigator? The Legend of Zelda? This dancing baby:
That's what you get with Retro Theme – a trip back to the 80's and 90's. This free theme has a good bit of customization: titles, tagline, logo, colors, header image, background audio (upload your own or turn it off), background image, show animated gifs, show fake visitor counter, links, navigation, widgets, and static frontpage. Or you can leave everything as-is. Just turn your site into a GeoCities website and enjoy! Don't forget to turn on your speakers. I know you've heard that tune before!
This one from Flexithemes is an older theme that was recently updated and is available as a free edition (with footer links) or paid ($29, without links). It includes an options menu where you can change your logo, enable featured posts, enable banners and ads, featured video, social buttons, header and footer scripts, and more. This is a clean and elegant design and the purple highlights look great from top to bottom. It is responsive and includes page templates for archives, contact form, full width (no sidebars), and a sitemap. It has a sidebar on the right side.
Here's another updated free and paid theme from Flexithemes. It includes many of the same options as AnimeLight (only it does not include the featured video). It has sidebars on both sides. It also includes page templates for archives, contact form, full width (no sidebars), and a sitemap. It is responsive.
Remember the 80386? Yeah, let's just pretend I didn't ask that. If you like the look of computers that are, well, "seasoned" then you might like WP386. This is a theme that takes your website back to the days of DOS. And who doesn't love DOS? Well, there aren't a lot of settings, but what do you expect? It's MS/DOS! You can customize the title, colors, navigation, widgets, and static frontpage.
Another awesome retro OS theme is Retro MacOS. You do have the standard customizations: title, header, background, colors, navigation, widgets, and static page – but what could you possibly change in this theme? Other than the photos in your posts it looks like the real deal. It even adds icons to your links. Classic.
The Commodore 64 had a major impact on the computer world for many years. This theme converts your website into a C-64. Well, in all reality this looks a little better than the C-64! It doesn't have a lot of adjustments, but neither did the computer it is based on. You do have control over the basic customizations such as colors, background, navigation, widgets, etc. It just looks too cool not to like it.
10 Print "Hello!"
20 End
You can't geek out over retro computers and not mention Commodore's other amazing computer: the Amiga. This one looks like the real thing. You can customize the title and tag-line, and choose a static frontpage, but you can't make any changes to the colors or fonts. Of course, changing colors and fonts does away with the point of the theme, so it makes sense that you can't change them. It's clean and nerdy. What's not to love?
This free theme was built to host online comics. It can also be used on your site without comics. It has lots of options including nine layouts, custom headers, widths, you can turn off titles to pages and posts, add a graphic calendar, author info, copyrights in the footer, RSS, menu bar, social links, debugging, and lots more. You can use it just fine as a stand-alone theme or you can enhance it with plugins that take advantage of the comics-friendly features and let you put together your very own web-based comic. There are also child themes available that further enhance functionality.
Another theme that focuses on comics is Panel. This one allows you to run a comic strip on your site. It adds a new link to your menu called Comics. Here you can drag and drop your comic and publish it just like you would publish a post. You can have featured content, custom header and footer, social links, custom menus, backgrounds, and more. It is responsive and has a full-page width template if you want a page with no sidebar. It looks elegant and simple at the same time. The dark grey header and footer looks nice against the red trim.
Geek Out!
WordPress has plenty of themes to geek out over. This is only 13 of the hundreds, or maybe thousands, of geeky themes that are available for WordPress. You're sure to enjoy one of these 13. Just install it, tweak it, and make it your own!
Did I miss your favorite nerdified geek theme? Be sure to tell me about it in the comments!
The following two tabs change content below.
Brenda Stokes Barron is a freelance writer and blogger for hire. When she's not hunched over her laptop, she's spending time with her husband, daughter, and two crazy cats. Keep up with her antics (which often include trips to Starbucks) on
Google +
.
Latest posts by Brenda Barron (see all)