I recently signed up to be a contributor over at Yahoo! and they post some very interesting assignments. These articles don't pay (they're performance-based, meaning I only get paid for how many times people click to read them) but that's not the point. Rather, the prompts get my brain pumping. Recently, I claimed an assignment just in time for Mother's Day: What does being a mom mean to me?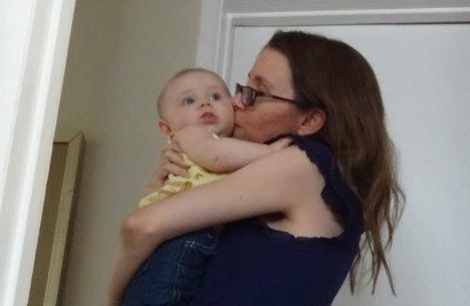 This article, A Reason to Get Out of Bed, is what resulted. Go take a look and leave a comment there or here. I'd appreciate it. I know you're probably all sick and tired of hearing how grateful I am for my little girl. But she's changed me for the better in more ways than I can name. Truly, I am a better person right now than I was the day she was born and it's only been 7 1/2 months. I already owe her a million things.
Besides. Look at her. She's perfect.
The following two tabs change content below.
Brenda Stokes Barron is a freelance writer and blogger for hire. When she's not hunched over her laptop, she's spending time with her husband, daughter, and two crazy cats. Keep up with her antics (which often include trips to Starbucks) on
Google +
.
Latest posts by Brenda Barron (see all)