So, I'm trying out a thing. I've loaded up a giveaway into Rafflecopter and I'm relying on you  dear readers to spread the word. Each time you complete a task (outlined below), you're automatically entered to win a $25 Starbucks Gift Card. Don't worry, if you've already liked me on Facebook and Twitter, you can still enter!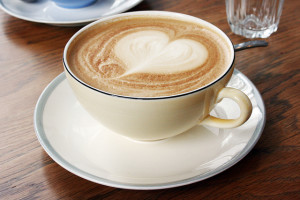 You have nothing to lose and a potential $25 of delicious coffee to gain. Pumpkin Spice Lattes are expensive, yo. And we're talking like five free ones here. That's a good deal!
The Details
Starts: Tuesday, September 17 at 12:00 a.m. EST
Ends: Monday, September 23 at 12:00 a.m. EST
Enter to Win!
That's it! That's all there is to it! Go ahead and spread the #BlogBrand (and coffee) love below:
The following two tabs change content below.
Brenda Stokes Barron is a freelance writer and blogger for hire. When she's not hunched over her laptop, she's spending time with her husband, daughter, and two crazy cats. Keep up with her antics (which often include trips to Starbucks) on
Google +
.
Latest posts by Brenda Barron (see all)