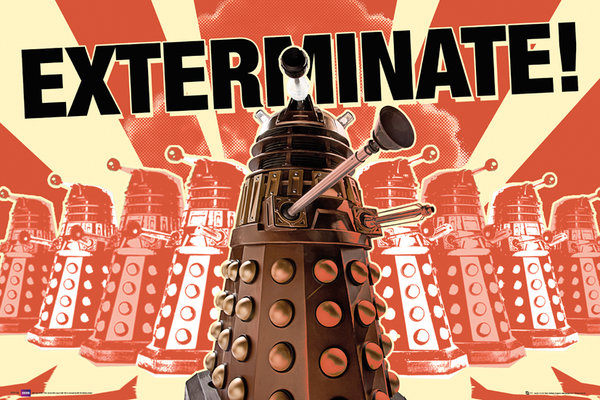 Anyone who talks to me more than five minutes learns two things: 1. I'm passionate about writing. 2. I'm a full-blown Whovian. And while the written word is something I wrestle with on a daily basis, how I share that content online is an ever-changing process. Am I tweeting enough? Too little? Am I post on Facebook at the wrong times of day? What about Google Plus? What the hell am I supposed to do over there? These are questions many people venturing into the world of social media writing ask themselves. I continue to ask myself these questions.
Now, anyone who's seen Doctor Who knows that the arch villain of the series are the Daleks, a trashcan-esque, plunger and whisk yielding alien race hellbent on the destruction of anything not pure Dalek. Their popular refrain is "Exterminate!" Many a meme online has seen Daleks in bathtubs with loofahs (Exfoliate!) and Daleks in love (Infatuate!). So, I'm jumping on the meme bandwagon today, shouting, "Emulate!" in my best Dalek voice. Why?
Because if you want to succeed in spreading your content on the web in the most effective way to yield the greatest amount of response and engagement, you need to follow in the footsteps of your social media mentors.